Alley Miles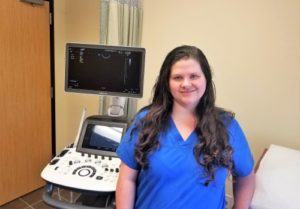 What drew you to getting involved with the Center?
When I applied, I didn't know much about the Center. During my interview process I learned about everything they do to help moms and people in the community. After that I knew this was the place I was meant to be. I love helping people to better themselves.
What has impacted or surprised you most about working at the Center?
How much I grew to care about the clients. I knew I would have some tough cases from time to time. I have always put my heart into what I do, but this has reached me in a ways I never expected.
What moment or experience stands out to you?
For me there really are so many. I see young ladies just starting out, moms on baby number 3, and older moms starting over with a adult child at home and they all are special to me. I show them the first look of the life growing inside them. No one reacts the same, and that is what stands out to me – the many ways this tiny life impacts each one of these ladies.