Gabbye Bovee, RDMS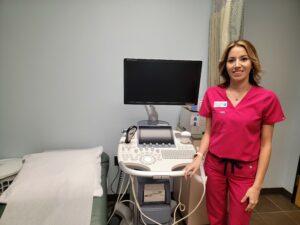 What drew you to getting involved with the Center?
I wanted to help more woman in need when finding out they are pregnant. Working at a hospital I get to help people, though I wanted it to be somewhere where it was more personal, to get the chance to help in this lifelong decision.  
What has impacted or surprised you most about working at the Center?
The people here feel like family. When you walk in you feel welcomed and unjudged. The willingness and compassion of all the staff and volunteers to the woman coming in with this lifelong decision is unmatched, and you can feel the love towards each of them.  
What moment or experience stands out to you?
Helping the mother of the unborn babies see their baby and be there to answer questions. Watching the faces of these Mothers change when they see their baby and say "oh it is a whole baby," and getting a chance to tell them that yes, the baby has everything from fingers to toes at such an early stage.