Brielle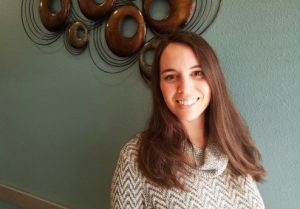 What drew you to getting involved with the Center?
Volunteering at a pregnancy center really appealed to me because it is a very practical ministry for women that are often in a difficult situation. It's such a great way to demonstrate Christ's love both for the mother and the unborn child.
What has impacted or surprised you most about serving at the Center?
I've been pleasantly surprised by how many women are uncomfortable with the idea of abortion. Even if they do not have a religious belief that promotes valuing life, there's quite often an uneasiness with them when the subject is brought up. It's usually the very difficult circumstances of their current life situation that's pushing them towards that option. Being able to provide them with knowledge, resources, and hope is such a big step towards helping them continue on without feeling they must make a choice that would ultimately bring them a lot of emotional pain.
What moment or experience stands out to you?
Most of the clients are very appreciative of the help they receive. I had one client who came in with her mother. They were both very grateful for the help we were providing. At some point in the conversation, it came up that I was a volunteer. Both of them were shocked. It never occurred to them that someone would want to help them without being paid for it. It was such an awesome moment of seeing these people feel so loved.