Emalee Lyne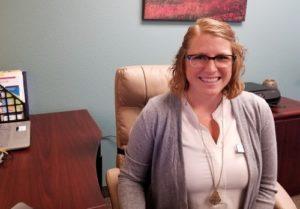 What drew you to getting involved with the Center?
I have always been drawn to serving and helping others in a crisis. I became aware of the Center through my church. I love people, and I love the mission of the Center. I immediately felt an urging from the Holy Spirit to become part of this ministry.
What has impacted or surprised you most about working at the Center?
In my short time here, I have been surprised by the amount of grace we are able to offer to one another. The staff has been so supportive of mistakes I make or things I haven't yet taken off their plate. The Lord has given us the wonderful gift of grace and forgiveness, even though we do not deserve it. The staff and volunteers at the Center fully embody that gift and share it with others, including our clients, in abundance.
What moment or experience stands out to you?
How the Lord can use us even in our weaknesses really stands out to me. Those moments when I am tongue tied or at a loss of words, stand out to me. He provides the perfect verses and encouragement that the client needs. Those are the moments where I can really feel that it is not my work, but His that is being done in this Center.