Ivanna Valle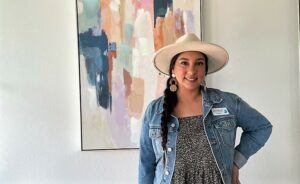 What drew you to getting involved with the Center?
The Lord has really given me a heart to love on women and encourage them in any season they find themselves in. So, when the opportunity to apply for the Client Consultant position arose, I felt such an urge in my spirit that I needed to apply. And I have had so much peace since starting that this is exactly where God wanted me to be.
What has impacted or surprised you most about working at the Center?
I love the phrase that we use here: "walking alongside our clients,". I think many people assume that we are just here to convince our clients to keep their unplanned babies and then leave them to figure out the rest. But we are here, as a ministry, to be a part of their journey during and beyond pregnancy and facilitate a path that allows them to truly become great parents and help them discover that they can have a successful life even with children. 3)
What moment or experience stands out to you?
In our first team-building meeting, when expressing how we each handle conflict, reach our goals, etc. it blew my mind to hear how every one of my colleagues- who are all women- was so readily willing to address their less-than-favorable tendencies in order to grow and serve not only each other well but more importantly our clients. I'm surrounded by women who are truly after God's own heart and I am so blessed by this ministry and these ladies!