Keva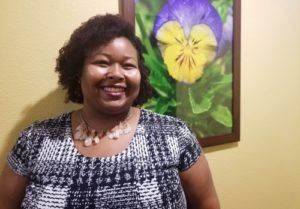 What drew you to getting involved with the Center?
A friend told me about the Center, I began searching to learn more about it.  God led me take action, reach out, and get involved. It was the best decision I made.
What has impacted you most about volunteering at the center?  
Being able to share the love of Christ and pray for the young ladies is truly a blessing to my heart.  I love being helpful, and coming in each week feeling welcome and loved on is like being with family.
Is there a particular moment or experience that stands out to you?
I was doing a baby call, checking on one of our clients. I spoke with a young lady and asked could I pray for her and she was exited to have me do so. I prayed with her and then was able to encourage her. She was very blessed by it and she stated that my call brightened her day and it was her birthday, so Praise God for using me.