Monica Hagler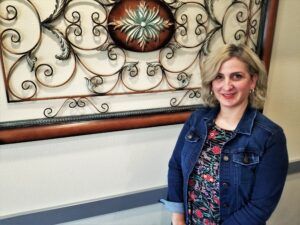 What drew you to getting involved with the Center?
I was introduced to the Center through friends and I started volunteering. When a staff position opened, the Lord showed me His greater purpose for me at the Center.
What has impacted or surprised you most about serving at the Center?
The team here has really blessed me. First and foremost because of their faith, but also because they are strong, honest, caring, smart and fun!
What moment or experience stands out to you?
When I first met with the Client Services Director to discuss volunteering, I was grieving the recent death of my Dad. The way she listened with compassion and empathy demonstrated to me how we show love to clients. I wanted to be a part of that and learn how to make others feel as valued as I felt that day. I knew I was in the right place!