Pat Ellis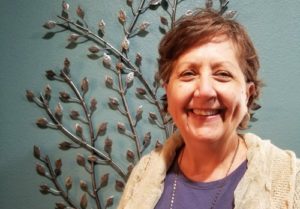 What drew you to getting involved with the Center?
First God changed my heart and mind from thinking that abortion is strictly a matter of choice, giving me a passion for the unborn instead.
Next He placed on my heart to put my money where my mouth is.
Then God said, "What about real involvement with your person and your time?" That's when I began serving as a Client Advocate in Arizona. When we moved to Fort Worth, God's call did not change, so here I am at this Center. I am privileged to minister to the women of this community facing an unexpected pregnancy.
What has impacted or surprised you most about serving at the Center?
There are two things that have happened to me since I began serving. God has grown my heart for the women we serve. My increased understand of and compassion for the way women think and feel has made me a better advocate. The other wonderful surprise is how He has emboldened me to share His truth and love. What a great adventure He takes us on when we serve Him!
What moment or experience stands out to you?
These moments are so memorable:
When a client comes in nervous and fearful, and is smiling and joyful as she leaves.
When a client chooses to receive the Lord Jesus as her savior and king.
When a client with a negative test listens to you share about sexual purity, and wants it for her life.
When a client comes in determined to have an abortion or is undecided about her pregnancy, but after hearing the truth she chooses Life for her child!