Margarita Hernandez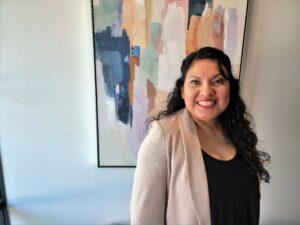 What drew you to getting involved with the Center?
When faced with an unplanned pregnancy, a woman must decide whether to end the life of her unborn child or trust that God still has a plan for her and this new life. Through the Center, she is given hope in a seemingly hopeless situation. As a lifelong believer, I have always had the heart to bring an understanding of the gospel of grace to those who don't know how incredibly big and faithful our God is. I first learned about the purpose and vision of the FWPC in 2019 when I was invited to attend the annual Starlight Ball. There, my husband, and I decided to become donors to support the mission of providing compassionate support in a safe and welcoming environment.
What has impacted or surprised you most about serving at the Center?
God's presence is truly evident within the walls of the Center.  The staff and volunteers are genuine in their desire to be compassionate to our clients, regardless of their background, and provide a safe environment where they will not be judged.  Clients are often pleasantly surprised that they are received in a kind, non-judgmental atmosphere.  I'm so honored to be a part of a team who lives out the Gospel of grace daily.
What moment or experience stands out to you?
I am most impacted by the fact that our team has the common goal of serving our clients and working together to achieve that goal in a respectful, Christ-like way.  There is a warmth you feel as you walk through the center.  I'm so happy to be a part of it!