Two-Way Church Partnership
Two-way Partnership with FWPC – Action Steps
1) Connect FWPC clients with your church by providing us with:
A link to an online connect form for clients to fill out while they are here
An email or phone number of someone from your church who would follow up with our clients.
If you have a unique link or email that notifies your liaison of requests coming from the Fort Worth Pregnancy Center, send that to us.
2) Let us refer clients to your church via our church partner webpage by providing the following details:
 Church Name/Address
Service Times
Connect Information
How to follow you on social media
Additional Suggestions:
Links to a video about your church
A link to a short (1-3 minutes) reel or teaching video
A link to a sermon that would appeal to new Christians
Info about any special ministries that would appeal to our clients (single parent ministry, etc.)
3) Sponsor spiritual growth baskets that clients receive at the Center when they become new believers in Christ:
Each basket costs $25 to assemble
We anticipate the need for 15 baskets per month and each church to sponsor a month's worth of cost for these baskets ($325).
We welcome you to sponsor more or less than 15 baskets, based on what is feasible for your church.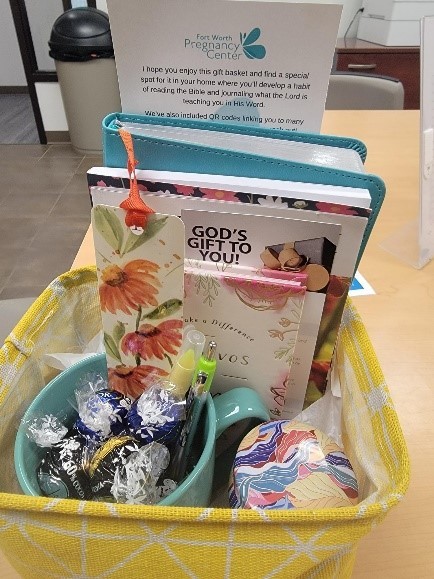 Pastors, we know you are very busy, and we appreciate your time. Please feel free to redirect this request to the appropriate person to help us obtain the info outlined above. If you have any questions, or to move forward with the sponsoring of spiritual growth baskets, please email [email protected]